NJ Minority Business Development Agency (MBDA) Business Center
Are you a minority-owned business located in New Jersey? Are you established and ready to grow?  
With New Jersey MBDA Business Center, we help connect you to: 
Individualized strategic business planning 
Staffing 
Organizational structure consulting 
General business advising 
Referrals to capital 
Referrals to procurement opportunities
Who We Are 
The Minority Business Development Agency (MBDA) is the only US federal agency that promotes the growth and global competitiveness of businesses owned and operated by minority entrepreneurs. Our goal is to achieve economic prosperity for all American business enterprises.  
The New Jersey MBDA Business Center focuses on helping minority business enterprises grow today, while preparing them to meet the industry needs of tomorrow. 
MBDA Performance: Our Impact
MBEs are fast-growing, innovative, and represented in every industry sector in the United States. MBDA promotes the growth of minority-owned businesses through the mobilization and advancement of public and private sector programs, policy, and research.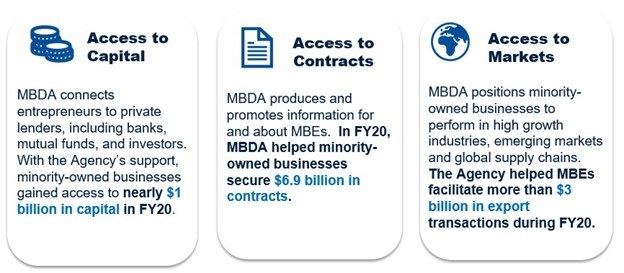 Do I Qualify?
Our clients are U.S. minority business enterprises (MBEs) owned and operated by:
African Americans
Asian Americans
Hasidic Jews
Latino Americans
Native Americans
and Pacific Islanders
Fees 
It is our goal to work with all businesses to assist them with development and growth strategies. Fees may be charged if specialized services are needed.  For more information, please contact Victoria Hosendorf (vhosendorf@theenterprisecenter.com ).
Application Process
Please submit your capabilities statement and the attached Client Engagement Form. Send to vhosendorf@theenterprisecenter.com