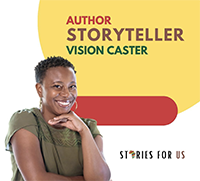 Tell a Different Story
A 2019 survey by The Cooperative Children's Book Center (CCBC) stated that only 11.9% of children's books were written by and about BIPOC (Black, Indigenous, People of Color) authors!
Stories for Us exists to change this story!
Stories for Us is inspired by the truth that says all people are created by God and have dignity. Because of this, everyone's stories are for us and are worthy of being told! At Stories for Us, we celebrate Black and Brown characters and normalize Black joy for all of our readers!