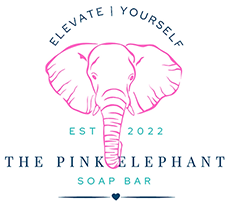 We are a small soap shop dedicated to making all natural skin care and home care products. We are use simple and natural ingredients to provide the best skin care for you and your loved ones. Our goal is to reconnect with our Mother Earth to meet our daily needs both personal and home. We strive to promote loving yourself from the outside in!
We are a cruelty free and environmentally conscious brand!
We offer a wide array of products that are always small batched to ensure quality standards are always consistent. Making and promoting a natural lifestyle is a huge part of our lives at The Pink Elephant. We recognize that we can not always choose natural options in all facets of life but when it comes to what we put on our skin we know Mother Earth provides everything we need. We promise to always provide products that will make you feel good, smell good and LOVE THE SKIN YOU'RE IN!